FOOD EXPERIENCE
---
"Al Fundok" is about happiness, We are very serious about people's happiness by spoiling them with our delicious food. A mouthwatering twisted cuisine combines healthy salads as well as Lebanese classics revisited. We would love to call it "Sunny food".
EM BOUTROS LE RESTAURANT
---
"Em Boutros" Le Restaurant is born from the collaboration of Yola (Em Boutros) and Chef Lena, in the pure tradition of farm to table. Yola is the farmer, who has been growing fruits, vegetables and herbs in her orchard for 20 years, and Lena is the cook, who after having started her catering business, has now surrounded herself with a team of women from the village to offer you a real local culinary experience.
EATING SEASONNALLY
---
Is it true, seasonal eating is better for you and the planet? Here's what Em Boutros says…..
"Seasonal eating is something that humanity has been practicing since the dawn of time, only then it was simply called "eating".
We are serving food shortly after it is harvested from our own orchards, or sourced locally. The products are fresher, tastier and contain more nutrients.
Since there is less expenses like transport, packaging ….. Naturally you pay less for the food. As a community project, we are supporting the local farmers. Whilst improving the environment.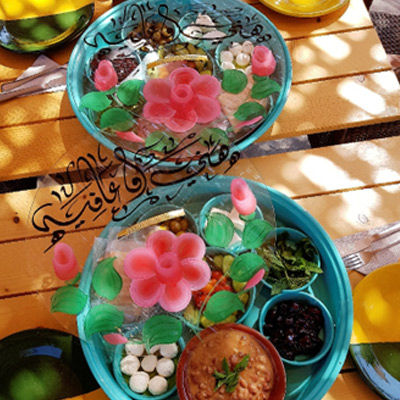 BREAKFAST
Good morning "Hana & Aafiyah" Start your day at Al Fundok with a happy moment: breakfast time. Breakfast is a Lebanese buffet spread with Labneh, cheese, pastry, olives, fried eggs and excellent homemade jams. You cannot stop eating mankousheh baked on the Saj: oat dough, with a topping of thyme and olive oil mix.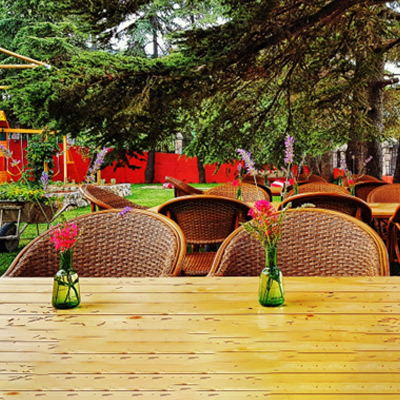 WINING AND DINING
Whether you choose a glass of homemade Arak, the local drink or a glass of organic Lebanese wine, You will definitely enjoy the good food in the garden under the Cedars' shade. A daily seasonal menu will surprise you. Meat, chicken and vegan dishes are proposed for you in addition to the fixed menu.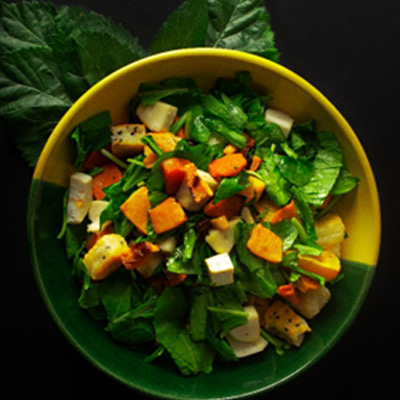 OUR FORMULAS
We offer different formulas regarding meals from breakfast to more structured offers, where our chefs will surprise you with dishes with traditional and twisted flavors, different ample daily proposals.
AL FUNDOK CATERING
---
WE COOK, YOU HOST!
We cook Innovative food, freshly-prepared in our central kitchen in Beirut by Chef Lena and we deliver to you. From our menu to your special events , we assure you a trusted catering and home delivery. Frozen products like all kind of kebbeh, fatayer, stuffed vine leaves... could be stored in your refrigerator.
YOU JUST HEAT AND SERVE.
Traditional dishes are available all year long.
"Em boutros" specialties prepared with wild edible plants are available during foraging season.
Click
Here
, to view our menu.